CMS Thermal Camera for Body Temperature Detection
Built-in CMS, the camera could work with monitor directly with a single HDMI cable.

A computer is not required. Plug and Play with the monitor.

Built-in EMMC 16Gb storage allows storing more than 100,000 temperature detection records.

According to the World Health Organization, fever is one of the most common symptoms of COVID-19. This makes rapid identification of fever through screening efforts and fever-screening devices an effective part of your business operations.
This Thermal Camera for Body Temperature Detection is a no-contact, temperature check solution available to screen anyone entering your facilities, while allowing you to respect social distancing guidelines.
Our automated non-contact temperature screening systems are easy-to-use solutions for monitoring temperatures.
The person to be screened steps into an area where the fixed image is constantly focused, easily ensuring their face fills a majority of the predetermined facial region of interest by watching the screen.
Within 1-3 seconds, the camera software provides a Pass or Fail response.
Scan response setting are customizable and include both on-screen and audible options.
Features
HDMI output, connect directly to monitor without PC, plug and play.
Built-in EMMC 16G storage support 100,000 temperature records.
Multiple target tracking (The embedded deep learning algorithm supports simultaneous detection of 20-30 faces).
Fast readings (suitable for a lot of people walking through).
Support both thermal image and normal image of the person on the same screen.
Temperature measure range from 5°F ~ 302°F (-15℃ ~ 150℃).
Detection distance 5-10ft (1.5-3m). Detection height:5-10ft (1.5-3m).
High temp limitation - Low temp limitation -Abnormal Temperature Alarm.
CE, FCC, ROHS Certificated.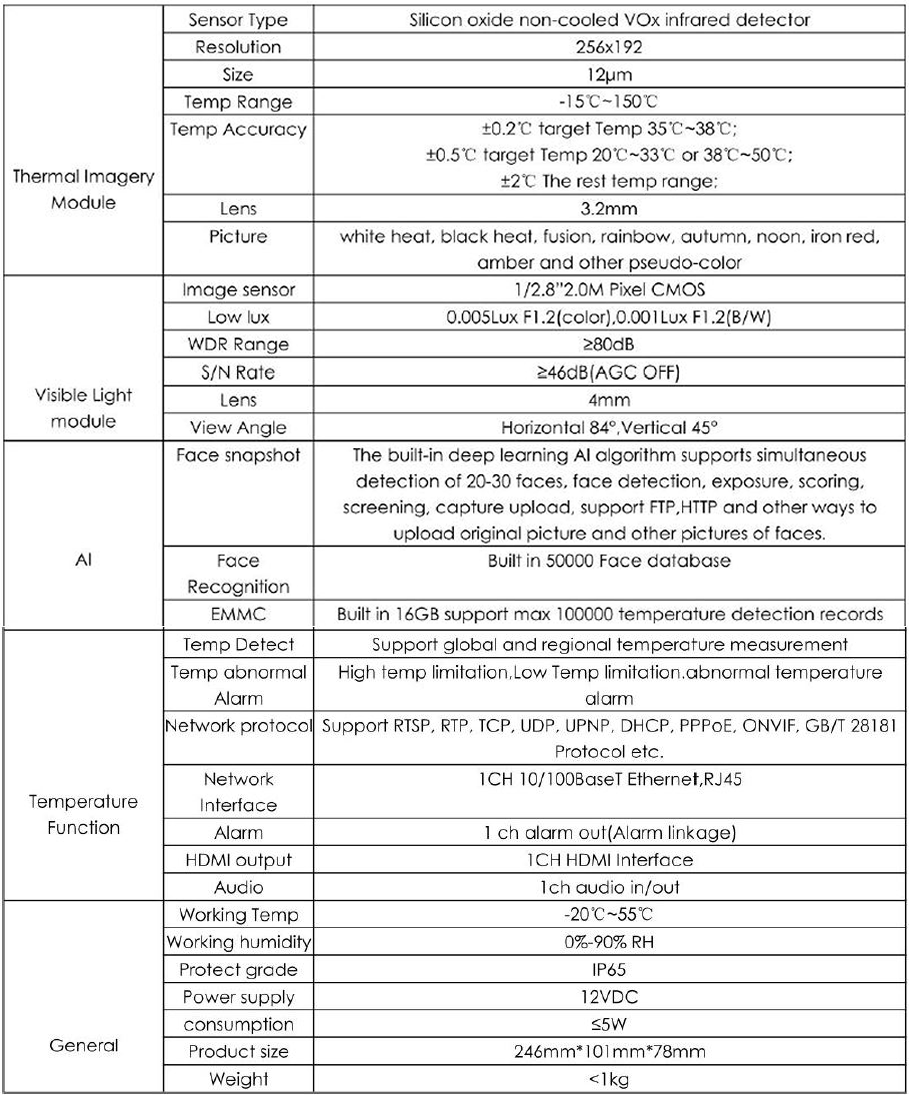 Application Scenarios
Hospitals, Hotels, Restaurants, Shopping malls, Supermarkets, Schools, Airports, Railway stations, Motor stations and other public places.